Have you already unpacked your Christmas gifts? Do you want to know what Formula 1 drivers give each other? Thanks to the traditional Secret Santa video!
All gifts are open – the fans even figured out their value ! This time it turned out somehow especially sincerely – apparently, the long-term shooting of emotions during the opening forced the guys to try to guess the desires of their colleagues.
Daniel Riccardo ➡️ Esteban Ocon
Spider-Man Comic Book Price: €142.5
"Great gift! This is madness. Incredible. Maybe not everyone knows, but I'm a big fan of comics and I'm a big fan of Spider-Man."
Top 10 F1 Helmets of the Year: Basketball Head, Spider-Man Mask, Fan Photo on Vettel's Head, Pet Assembly
Man, you are a legend! Thanks a lot. This is the best gift I have ever received. I hope to see you on the grid soon."
Nicholas Latifi ➡️ Daniel Riccardo
Instant camera with cartridges and 'I love Harry' T-shirt Cost: €108
"Oh, this is really a great gift!".
An instant camera and a box of photo paper to support Dan's new passion for photography: #3 just launched a social media account just at the end of the season .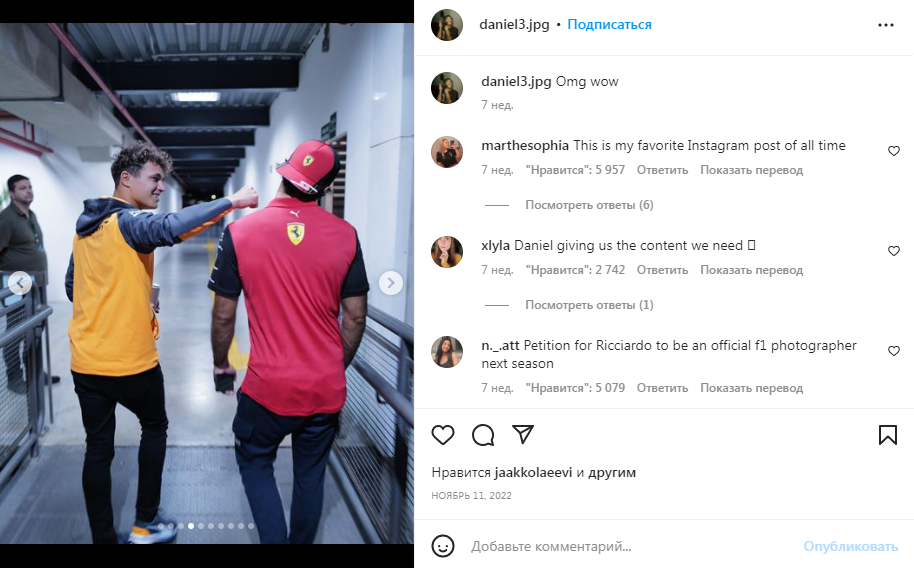 The shirt is a reference to Harry Styles from the once popular band One Direction, who once appeared in Riccardo's merch.
"Harry Styles. Now I can finally return the favor to him by wearing something of his or dedicated to him.
Sebastian Vettel ➡️ Nicholas Latifi
61 bees and cookies Cost: €140
F1's chief bee and environmentalist, Seb Vettel, adopted 61 bees for Nicolas. And the reason for choosing just this many insects is just the sweetest: "It was nice to race with you, Nicholas. 61 bees – one for each joint Grand Prix.
And a nice bonus – Nutella cookies for the biggest fan of chocolate paste among the pilots.
Turns out the worst F1 driver has a fridge full of Nutella. But he asked him not to give up
Lance Stroll ➡️ Sebastian Vettel
Maple in Switzerland Cost: €39 
A Canadian partner gave Vettel a maple tree (the symbol of Canada – in case you didn't know) in Switzerland: "Together with Swiss forestry experts, we will plant a maple tree in Switzerland based on the needs of the region."
Giving someone a tree is a great gift choice. The best gift that can be. So thank you, Lance."
Valtteri Bottas ➡️ Lance Stroll
Gin own brand Price: €0
Lance seems to have formed a certain opinion in the paddock: for the second year in a row he receives alcohol as a present: "The feeling that the whole paddock has an opinion that I am an alcoholic or something like that, because last year they gave me tequila , and this is a genie.
The Canadian was still happy with the gift: "I'm already looking forward to how I will celebrate the points earned and the victory over them (Alfa Romeo) in the Constructors' Championship."
Yes, the video was recorded until the last race of the season. There Stroll's team lost.
Carlos Sainz ➡️ Valtteri Bottas
Minions bike outfit Cost: €60
Bottas will be the most fashionable cyclist in the new year thanks to a gift from Sainz: "Very inventive!" Do not be surprised: Valtteri just loves cycling and cycling: he even has a girlfriend – a professional cyclist from the Australian team.
Bottas is not just an F-1 pilot: he played hockey for 10 years, and now he has been cycling on gravel and running in his own duathlon since 2017
Pierre Gasly ➡️ Carlos Sainz
Alfa Tauri sweater Cost: €0
Carlos Sainz will also be in fashion: he will be warmed by a branded soft blue sweater from Alfa Tauri, a gift from Pierre Gasly. It's convenient when your team also has a fashion brand in addition: "Beautiful color. So cozy, wintery, especially for sitting near the fire (fireplace)."
McLaren mod pokes Ferrari driver Sainz for 60-year-old style
Fernando Alonso ➡️ Pierre Gasly
Monopoly Cost: €57
"(Shaking) Looks like Monopoly. Oh my God! I swear I didn't know! I won't lie, I don't have it at home in Milan, so I was going to buy the game. So whoever decided to give it to me was a great idea. Thank you very much, Fernando. Along with his car, he also gave me a Monopoly. Very nice of him. Thanks".
 🤯Now in F-1, transfers are like in football: the team laid out €10 million for a buyout and $15 million salary for an average pilot
Kevin Magnussen ➡️ Fernando Alonso
Rear view mirror Cost: €0
Kevin Magnussen gave Fernando Alonso a rear-view mirror, which he took from his first car. Must have been a replacement for Alonso, who flew off the car when he overtook Kevin at the US Grand Prix.
 Takeoff in an accident, five overtakes in a wrecked car, a sad rest without strength on a tire – Alonso's great race. And the judges eventually took all the points
Alex Albon ➡️ Kevin Magnussen
Anti-stress toy, black and orange flag and beard grooming kit Price: €47 
Kevin had a special connection with the black-and-orange flag in 2022: the judges called him into the pits three times because of a slightly damaged wing for unscheduled repairs, and thus spoiled the strategy for the race. The second is a door support to keep the doors in Gunther's office in order ( a reference to the famous moment when Magnussen slammed the door with a crash after colliding with a partner at the British Grand Prix in 2019 ). The third is the Viking Revolution beard grooming kit, which Kevin immediately happily tested out.
The bonus gift that the mother of the secret Santa racer Kevin picked up is an anti-stress toy.
 Sergio Perez ➡️ Alex Albon
Hair dye, used slippers and certificate for a golf lesson Cost: €26
Alex was waiting for slippers with a handwritten signature "Puma" on them. Judging by the sole, they are not new yet: "The worst gift in my life," Albon was indignant.
For some reason, he considered hair dye for new experiments with the image to be too experimental even against the background of his red hair.
And a certificate for a 100% discount on golf lessons from the Minister of Defense of Mexico.
 Yuki Tsunoda ➡️ Sergio Perez
Bottle of Sake Cost: €65
Secret Santa Sergio also easily betrayed his identity. Under a beautiful wrapper, a bottle of a traditional Japanese alcoholic drink, sake, was hidden. Hey Yuuki.
Lando Norris ➡️ Yuki Tsunoda
Framed photo Cost: €0
A super-cheap but priceless gift for Yuka: a joint photo with Pierre, who leaves his partner for a place at Alpin: "This is a really good gift. I really liked him. The best gift in my life. Someone really kind must have given it."
Mick Schumacher ➡️ Lando Norris
Golf clothes Cost: €0
Another Santa who could benefit from a partnership with a clothing brand. Mick Schumacher gave Lando Norris a goal-playing look from Under Armor, the sponsor of the German racing driver. From the first seconds, Lando guessed who the gift was from, as soon as he saw the brand logo (after all, Mick is the only one in the peloton). But No. 4 is unlikely to be offended – after all, he loves golf .
Max Verstappen ➡️ Mick Schumacher
Lion adoption certificate and plush toy Cost: €57
Max Verstappen gave Mick Schumacher a piece of himself, his totem animal – a lion. In the form of a plush toy and a certificate of adoption of the real king of beasts: "Is this a real lion? I adopted him, so can I go and see him? Can I pet him? Can I play throw-and-fetch?" Mick imagined.
It seems that yes: here is that lion: real and alive.
Charles Leclerc ➡️ Max Verstappe
F-1 Simulator Special Edition Price: €80
Racing simulator lover Max Verstappen received the official F1 game in a unique edition as a gift! Max was the first (and only) owner of the Charles Leclerc edition of Formula 1, which only the most dedicated fans receive: "The edition for the biggest fan of me," said the postcard from Charles. Thought Max already had one? But no: he answered every question about the official game in the style of "everything is too unrealistic there, I won't buy it."
Zhou Guangyu ➡️ Charles Leclerc
Tea set Price: unknown, but definitely in yuan 
"I love hot tea so much! The beauty".
George Russell ➡️ Zhou Guangyu
Toy tyrannosaurus and socks Cost: €26
Zhou received a Christmas tree decoration in the form of a dinosaur on skis and New Year's socks. Simple, but Guanyu is still pleased.
And here is a forecast for 2023 from a connoisseur of Chinese culture: "Reds will come in handy next year, because this is the year of the rabbit. He loves red things."
Esteban Ocon ➡️ George Russell
Tambourine Cost: €50
The flag of Brazil is on the tambourine for a reason – there George won his first victory in F-1 and the only one for Mercedes this season. Probably, just the same, in order to celebrate the victory to the sound of the drum: "Okay. Fine. I seem to like it. I don't play any instruments, but this is a great opportunity to start," concluded George. Now we know what he's doing this holiday.
This is what the F1 gift cycle looks like: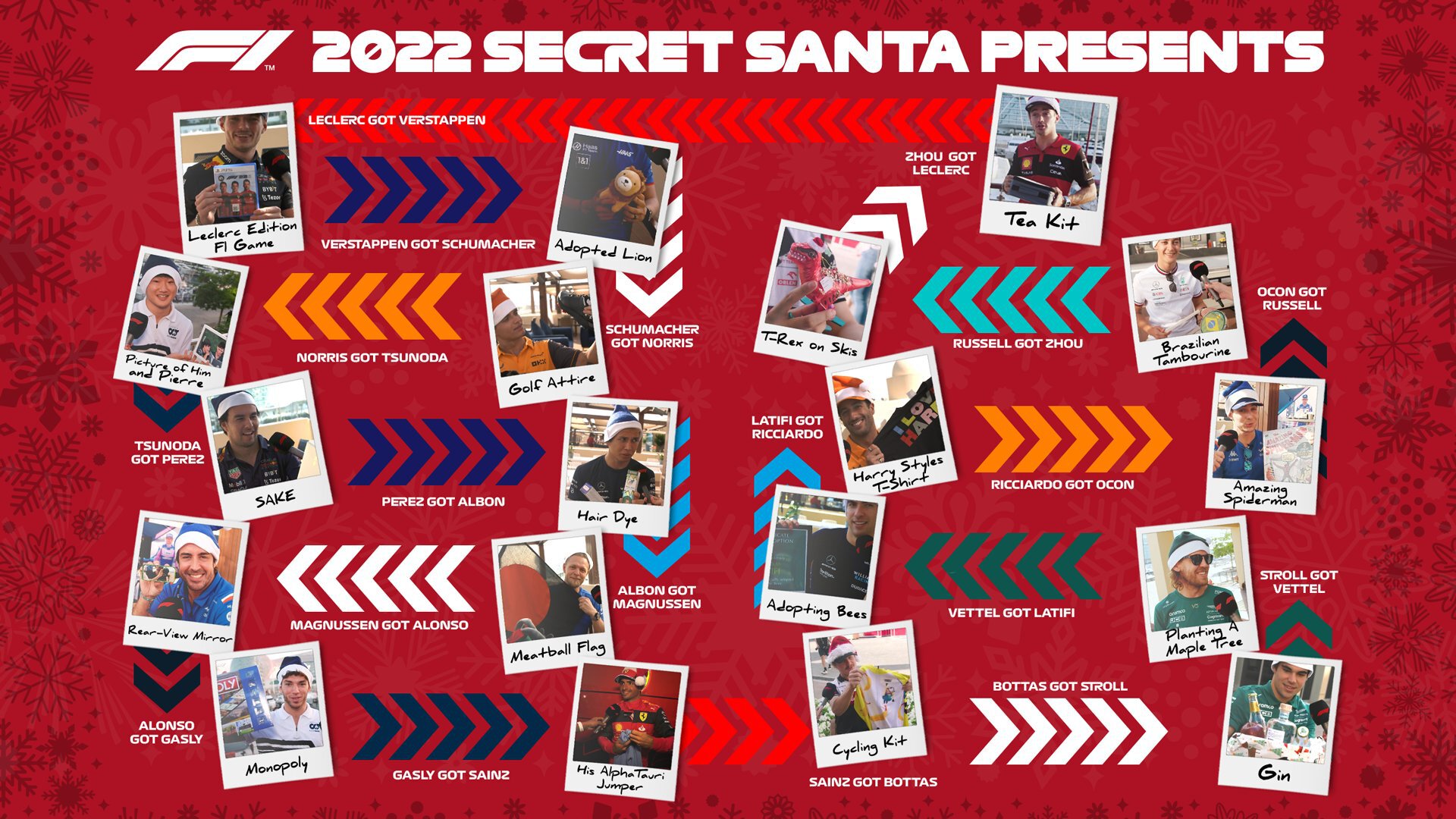 Did you notice who is missing? Not for the first time, for unexplained reasons, Lewis Hamilton was the only driver who did not take part in the sweet Formula 1 Christmas tradition. For some reason, he does not comment on this – but do you think his ingenuity is lacking here?