Jordan, Magic and Shaq are next targets.
Judging by the latest statements regarding all sorts of records and achievements, James feels emasculated and is not ready to storm historical peaks. You can understand it. It's not just about more injuries, a bad season, and the Lakers' lazy transfer policy. In fact, there are not many significant records left that James is able to encroach on. Some – like Stockton's historic assisting lead – are too far away, while others, which are reported to us after every third LeBron game, seem too insignificant.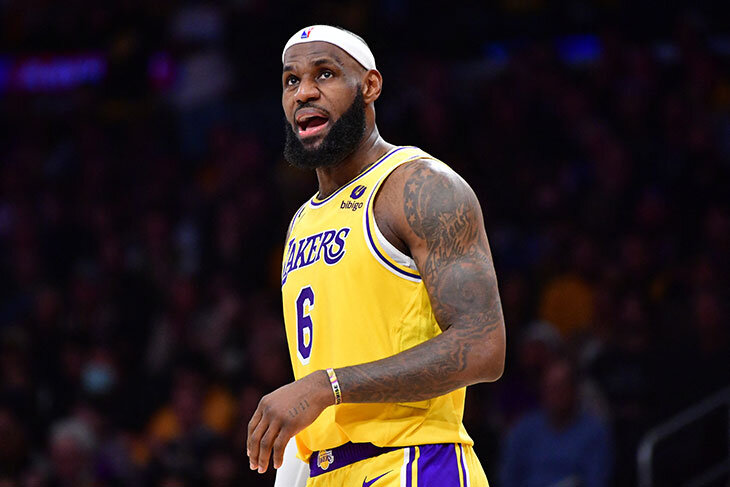 That is why it is difficult to single out statistical checkpoints that would be achievable and at the same time have real weight in history. Difficult, but not impossible.
The oldest player to become the most productive basketball player of the regular season
The older LeBron gets, the more often the phrase "the oldest" will appear in his achievements. It's clear that with such data, records from the series "the oldest player who grabbed two technicals" or "the oldest player who passed the towel to a teammate" will inevitably appear.
But this is a different matter. Fundamental. Moreover, this is a perfect record for LeBron. What makes him so is the reality of achievement and, of course, the personality of the record holder. In the 1997/1998 season, Michael Jordan, who at that time was 35 years and 72 days old, became the oldest winner of the sniper race. He topped the list of top scorers with an average of 28.7 points, only 4 hundredths ahead of Shaquille O'Neal.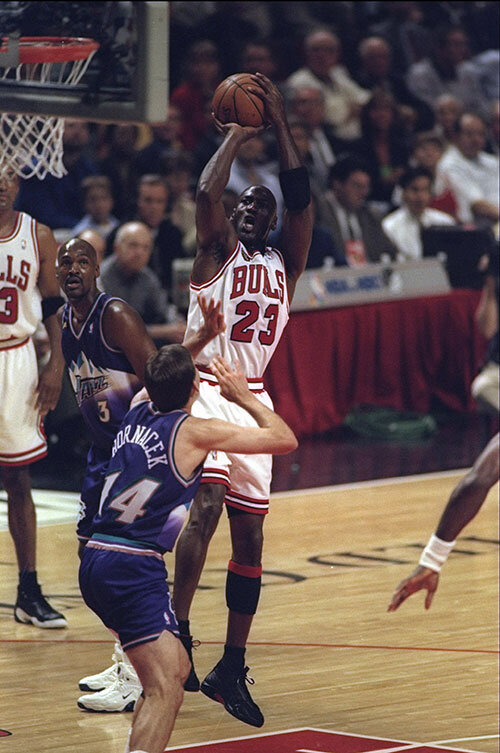 Since then, no attempt has led to the capture of the barrier. In the 2020/2021 season, Steph Curry gave out a breathtaking 32 points and took a confident first place, but at that time the leader of the Warriors was 33 years and 47 days old.
James, at 38, goes through the season with a solid 30 points. At the same time, it should be taken into account that the current championship is the most productive in recent years. Doncic and Embiid lead with 33.4 points, while Giannis Antetokounmpo rounds out the top three with 32.2. Last year, the average performance of the same Embiid, who became the best sniper of the championship, did not exceed 30 points. So, if James sets a goal, he may well encroach on Jordan's record. It is necessary to use the bonuses provided by the retirement age.
Most matches with 30+ points in history
Another timeless milestone, only this time by Michael Jordan. The greatest scorer in history has collected more than 562 matches in his collection, in which he scored more than 30 points.
Even Wilt Chamberlain backed down in the face of such pressure: he has only 516.
But Jordan's career was criminally short, and he deprived himself of several peak years.
In this sense, James has nowhere to rush, and he is slowly but surely approaching another phenomenal record: in the 22/23 season, he has already played 17 games, in which he surpassed the 30-point mark. He beat Chamberlain back in early December. With only 32 such matches left before Jordan, it is clear that barring something out of the ordinary, Michael Jordan will have to attend a match next year that will see him robbed of one of his most prized accomplishments.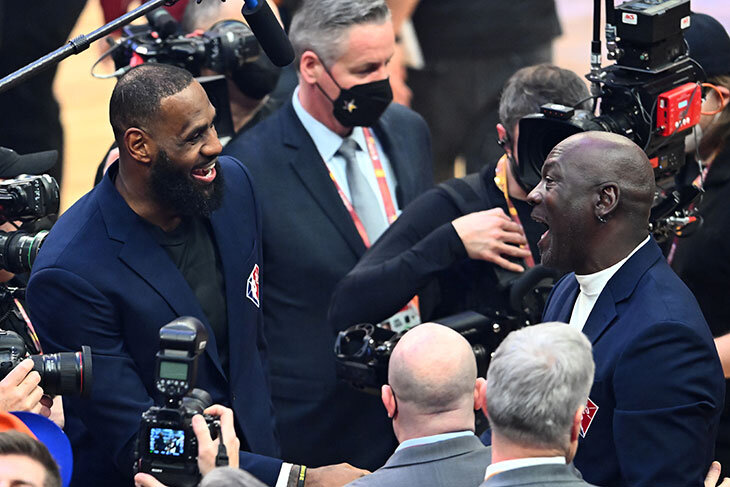 Get ready for another version of the crying Jordan.
Most triple-doubles in the playoffs
An achievement that will look very elegant with Karim's record about to fall. Here you have continuity and another reason for Laker Nation to hoot, and most importantly, everything is obvious and achievable. 30 triple-doubles in the playoffs is a combination that sounds and looks beautiful in itself. And if you consider that this is not the legacy of anyone, but Magic Johnson, then LeBron is simply obliged to block this achievement.
Especially since LeBron has already beaten the Magic once: James has 11 triple-doubles in the finals against Johnson's 8.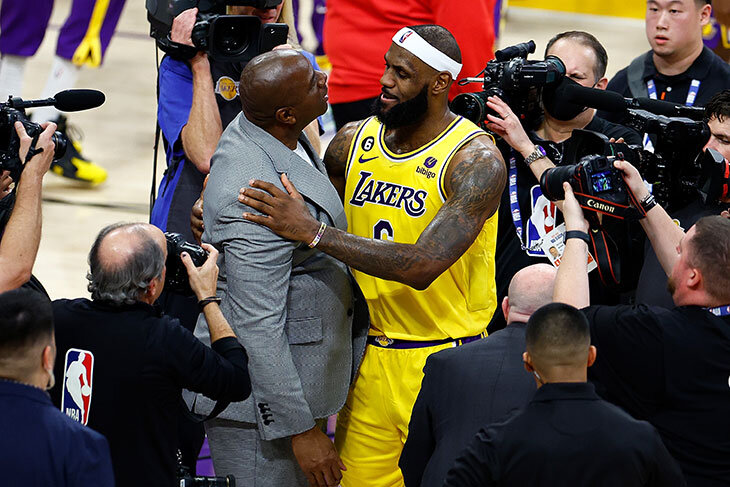 However, Johnson still holds the lead in total, with LeBron having 28 triple-doubles in the playoffs. There is no doubt that LeBron can overtake the Magic once again, another question: will he do it in a Lakers jersey?
Oldest All-Star MVP
Nothing personal, just business. At a time when we're talking about Jokic's astounding super-efficiency, resurrecting Copernicus to understand the phenomenon of onion-centricity, and failing to find time for Giannis to tear the league apart, I don't believe a 38-year-old LeBron in a full-fledged championship is capable of competing for a title. MVP. The oldest MVP is still Karl Malone, who took the award at the age of 35 years and 280 days (he turned 36 in July of that year).
It was the 1998/1999 season, which was shortened due to the lockout. In the regular season, Utah played just 50 games (37-13), and Malone, who averaged 23.8 points, 9.4 rebounds and 4.1 assists, missed only one game. Only Brian Russell and, of course, John Stockton took part in all the matches.
That season was a gap between eras, and Malone took advantage of it. In 39 matches, "Postman" scored at least 20 points, and in 10 – at least 30, but the fate of the award was decided not by attack, but by defense. In 37 games, Malone had at least an interception, and in 8 games he had 3 or more interceptions. And even in such scenarios, it was not without a struggle: in the vote, Malone was ahead of Alonzo Mourning by only 55 votes. It is extremely difficult to imagine that the same circumstances will develop in favor of LeBron, given the density in the race for the MVP, it is extremely difficult.
Much more realistic alternative. Yes, the All-Star Game MVP is not such an honorable award, given the historical accomplishments of LeBron. But he can set this record in a couple of weeks, in Utah, where Malone spent most of his career. Only now he will beat not his record, but Shaka. It was O'Neal, at the age of 36 years and 346 days, who became the most respected MVP in All-Star history. It happened in 2009, in Phoenix, the West team then defeated the East – 146:119, and Shaq shared the MVP award with Kobe Bryant. So LeBron has a chance to become not only the oldest MVP of the All-Star Game, but also the sole one.