There is a unique leader in our volleyball: Zenit St. Petersburg has not a single defeat in 18 matches of the Superleague and only five lost sets in four months.
Agree, the series is fascinating, even despite the proximity of other favorites: Dynamo has a single misfire, the eponymous club from Kazan has two.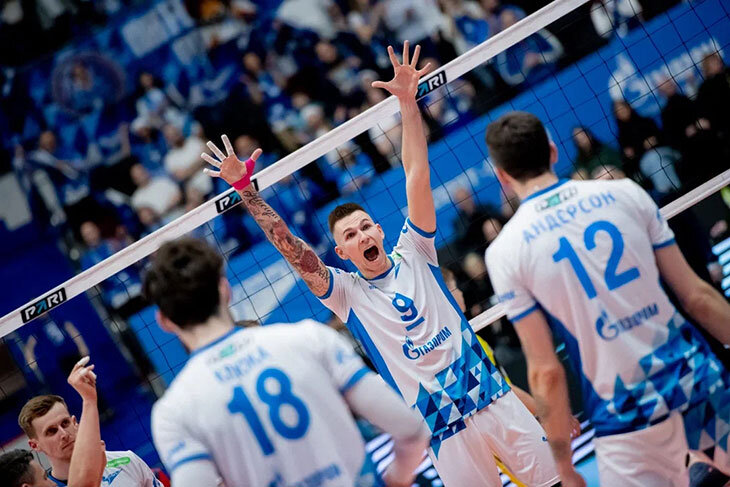 In general, Zenit from St. Petersburg is a legendary club in Russian volleyball.
He appeared in 2017 (a year after basketball) and immediately got into the Super League by the decision of the Presidium of the All-Russian Volleyball Federation instead of the collapsed Dynamo-Krasnodar – without unnecessary sports formalities in the lower divisions. Gazprom provided financial guarantees, the squad was assembled from available, but already top players, and the team immediately took the silver of the Russian championship.
"We don't set ourselves any other goals, except for the championship. Indeed, in a year and a half it is very difficult to create a team that will fight for gold medals, but we should only have such a goal, "Sergey Khomyakov, head of the Zenit Supervisory Board and Deputy Chairman of the Board of Gazprom, promised in the summer of 2018.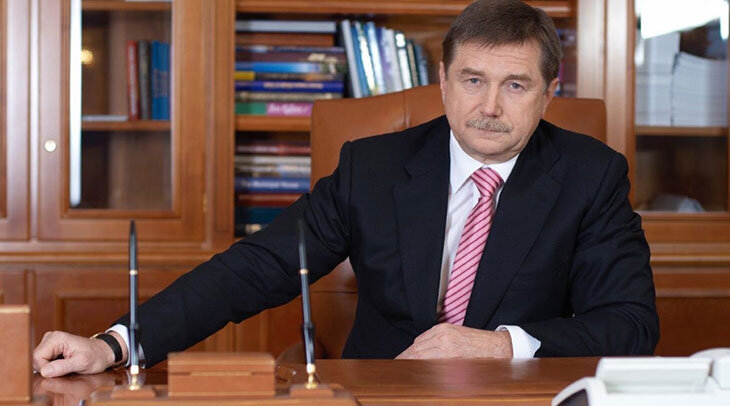 For the next five seasons, Zenit selflessly pursued at least some title, but in vain – the feeling that the team was bewitched. A paradox bordering on magic – the richest team in the country does not have a single title. Generally.
Judge for yourself:
• 8 times Zenit stopped one step away from the title – got to the golden match (two times in the Russian Championship and the Super Cup, three times in the Russian Cup, once again in the CEV Cup – the second most important club tournament in Europe), but always lost . Can you imagine how frustrating it is to play 8 finals, but not win a single one?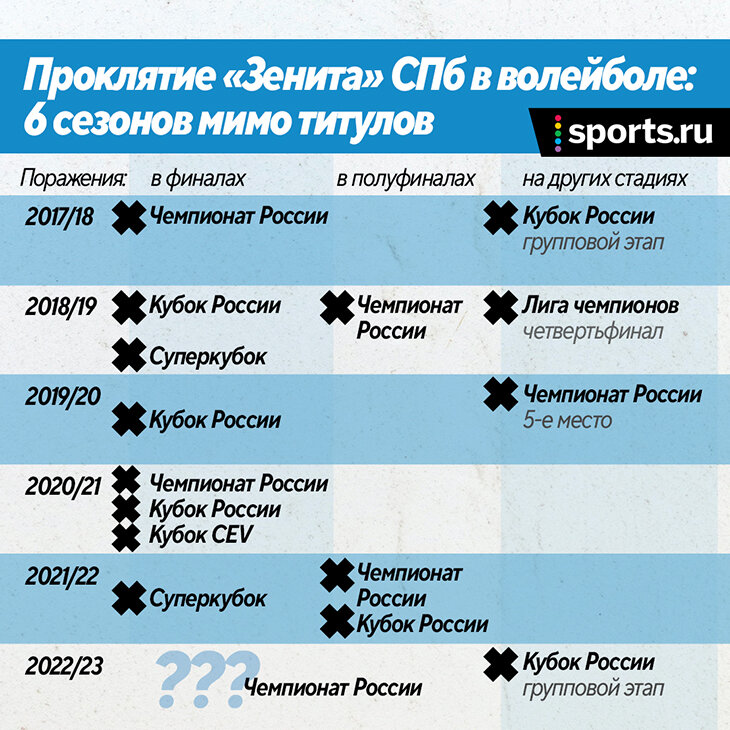 • There are even fewer tournaments in which Zenit did not reach the final – only 7, three of which the club finished in the semi-finals. Zenit simply did not finish two more international cups: the CEV Cup in 2020 due to the pandemic, and the Champions League in 2022 due to the suspension of Russian clubs.
• The 2020/21 season turned out to be the most offensive in general. Zenit broke through to the finals of three tournaments at once (the Russian Championship, the Russian Cup and the CEV Cup), but lost everywhere to the same club – Dynamo Moscow: in December, March and April.
• St. Petersburg Zenit was often confused with Kazan at first (even the same Gazprom acted as the general sponsor of both teams), but later they learned to distinguish them on a simple basis: Kazan won 10 titles during the existence of the namesake club (including and the Champions League), and St. Petersburg is still on standby.